Corporate Bios
Gene Roddenberry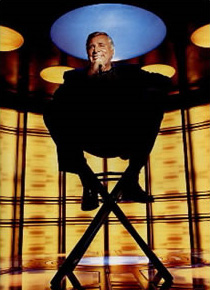 Although Gene Roddenberry passed away October 24, 1991, his legacy remains as Star Trek continues to flourish and grow, as there has been 10 movies, and 7 television series, all of which maintained his vision of the future.
Gene Roddenberry, often affectionately referred to as the "Great Bird of the Galaxy," led a life as colorful and exciting as almost any high-adventure fiction. He was born in El Paso, Texas, on August 19, 1921, and nearly escaped death as a toddler, when a house fire almost took Gene's life, as well as his siblings, Bob, Doris, and their mother, but a milkman came along and woke them in time to avoid any injuries.
Gene spent his boyhood in Los Angeles, where he later studied three years of policemanship and then transferred his academic interest to aeronautical engineering and qualified for a pilot's license. He volunteered for the U.S. Army Air Corps in the fall of 1941 and was ordered into training as a flying cadet when the United States entered World War II. As a Second Lieutenant, Roddenberry was sent to the South Pacific where he entered combat at Guadalcanal, flying B-17 bombers out of the newly captured Japanese airstrip, which became Henderson Field. He flew missions against enemy strongholds at Bougainville and participated in the Munda invasion. He was decorated with the Distinguished flying Cross and the Air Medal.
It was while in the South Pacific, that Mr. Roddenberry began to write. He sold stories to flying magazines, and later poetry to publications, including The New York Times. He even wrote a song lyric "I Wanna Go Home", which became a popular song during the war.
At war's end, he joined Pan American World Airways. It was on a flight from Calcutta that his plane lost two engines and caught fire in flight, crashing at night in the Syrian desert. As the senior surviving officer, Roddenberry sent two Englishmen swimming across the Euphrates River in quest of the source of a light he had observed just prior to the crash impact. The Englishmen reached a Syrian military outpost, which sent a small plane to investigate. Roddenberry returned with the small plane to the outpost, where he broadcast a message that was relayed to Pan Am, which sent a stretcher plane to the rescue. Roddenberry later received a Civil Aeronautics commendation for his efforts during and after the crash.
Roddenberry continued flying until he saw television for the first time. Correctly estimating television's future, he realized that the new medium would need writers and decided that Hollywood's film studios would soon dominate the new industry. He acted immediately, left his flying career behind and went to Hollywood, only to find the television industry still in its infancy, with few openings for inexperienced writers. At a friend's suggestion, he joined the Los Angeles Police Department, following in his father's footsteps and gaining experiences which would be valuable to a writer.
It wasn't until 1966 when Roddenberry created and produced Star Trek, that he found his voice in Hollywood. The first of the two pilots were pronounced "too cerebral" by the network and rejected. Once on the air, however, Star Trek developed a loyal following as viewers grew to love the Starship Enterprise and its crew, which included the heroic Captain Kirk and the logical Vulcan, Mr. Spock.
"Space…the final frontier.
These are the voyages of the Starship Enterprise,
its five-year mission

….to explore strange new worlds
…to seek out new life and new civilizations
…to boldly go where no man has gone before." — Gene Roddenberry (August 10, 1966)
This set the tone and mood for an entire generation of Star Trek fans.
Roddenberry unwittingly unleashed a phenomenon in which Star Trek enthusiasts became a veritable cult, numbering physicists, aerospace engineers, housewives, senators, children, teachers and intellectuals among its devotees (affectionately known as "Trekkies," and later, "Trekkers"). The show went outside television to win science fiction's coveted Hugo Award and then spawned an animated spin-off, as well as a series of feature films.
While making Star Trek, Roddenberry's reputation as a futurist began to grow. His papers and lectures earned him high professional regard as a visionary. He spoke on the subject at NASA meetings, the Smithsonian Institution, Library of Congress gatherings, and top universities.
Star Trek was so wildly popular that it has since become the first television series to have an episode preserved in the Smithsonian, where an 11-foot model of the U.S.S. Enterprise is also exhibited on the same floor as the Wright brother's original airplane and Lindbergh's "Spirit of St. Louis." In addition to the Smithsonian honors, NASA's first space shuttle was named Enterprise, in response to hundreds of thousands of letters from fans demanding that the shuttle be named after the beloved starship.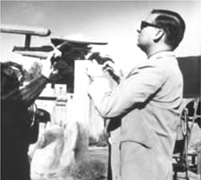 On September 4, 1986, Gene Roddenberry's fans presented him with a star on the Hollywood Walk of Fame, the first writer/producer to be so honored. Star Trek: The Next Generation, in its first year in syndication, was awarded with the 1987 Peabody Award for the "Best of the Best." The series also garnered many of the prestigious Emmy awards throughout its seven-year run. In February 1990, the March of Dimes honored Roddenberry with the Jack Benny Memorial Award of lifetime achievement.
On Thursday, October 24, 1991 Gene Roddenberry passed away and a world not so far away mourned the loss of one of television's foremost pioneers. Sadly, Gene died within 48 hours of screening Star Trek VI: The Undiscovered Country (1991), the last Trek that revolved around his original characters. At the time of his passing, Gene was survived by his wife Majel Barrett ("Nurse Chapel" from Star Trek and "Lwaxana Troi" in Star Trek: The Next Generation) and their 17-year-old son, Gene Roddenberry, Jr., his two grown daughters from a previous marriage, as well as two grandchildren.
In addition to having served as executive consultant on Star Trek feature productions, Roddenberry added "novelist" to his writing repertoire. His novelization of "Star Trek: The Motion Picture" (Pocket Books, 1979) sold close to a million copies and was ranked number one on the national bestseller lists for many weeks.
Majel Roddenberry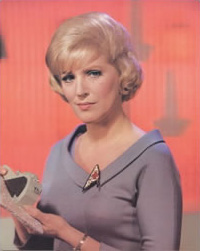 Majel Leigh Hudec was born in Cleveland, Ohio, where she grew up. When she was ten, she enrolled in an acting workshop. She continued her interest in acting at Shaker Heights High School but went to college with the intent of becoming a legal clerk. Majel attended law school for a year, but after receiving an 'F' in contract law, she moved to New York and landed parts in, "Models By Season," which was staged in Boston. Then she did a nine-month run in "The Solid Gold Cadillac," which toured New Orleans, Texas, Oklahoma and San Francisco, California.
Deciding the competition was too stiff in New York, Majel moved to California and the Pasadena Playhouse. There she got a role in, "All for Mary." In the late fifties, she worked in various Paramount films, including, "Black Orchid," "As Young as We Are," and "The Buccaneer." Then she decided that the real progress was happening in television and that's where she wanted to be.
After appearing in several series, like, Westinghouse Desilu Playhouse, Window on Main Street, Bonanza, and Pete and Gladys, she met Lucille Ball at an acting class and was signed to a contract with Desilu. Soon after she appeared in an episode of the Lucy Show, called "Lucy is a Kangaroo for a Day."
In 1964, when she was no longer under exclusive contract, Majel accepted a guest role on the new MGM series, The Lieutenant, produced by Gene Roddenberry. Majel became good friends with Gene and ultimately, years later, became his wife.
Later in 1964, Roddenberry cast her in a co-starring role in "The Cage," the pilot for his science fiction series, Star Trek. She played 'Number One,' second in command on a fictitious starship. However, the character's strength and authority in the Star Trek universe was unsettling to NBC and they ordered a second pilot made, without the woman, Number One.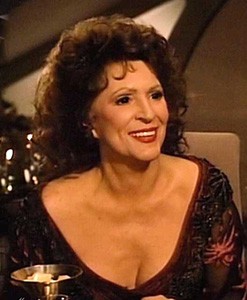 When Roddenberry sold his second Star Trek pilot to the network, he remembered Majel's work in "The Cage" and hired her as Nurse Christine Chapel. Instead of the dark-haired M. Leigh Hudec that they had disliked in the other pilot, she now used the name Majel Barrett and wore a blond wig as Chapel. Majel remains the only actor to have contributed to every facet of the Star Trek phenomenon.
On August 6, 1969, Majel married Gene Roddenberry in Japan, in a traditional Buddhist-Shinto ceremony. They regarded this as their real wedding, but his divorce was not yet final and they made it legal with a civil ceremony on December 29, 1969. On February 5th, 1974, they welcomed the arrival of their newborn son, Eugene Wesley Roddenberry, Jr., known affectionately as "Rod."
Since Roddenberry's death, Barrett produced the sci-fi series Andromeda with Kevin Sorbo and Earth: Final Conflict. In 1996, Barrett, often called "The First Lady of Star Trek," guest starred on Babylon 5, the science fiction series that was widely considered to be Star Trek's challenger and competitor. Farther outside the Star Trek universe, Barrett appeared in A Guide to the Married Man with Walter Matthau, Westworld with Yul Brynner, and The Domino Principle with Gene Hackman, but her roles in such films were always small. She also voiced the computer in an episode of Family Guy.
Most recently, she reprised her role as the voice of the USS Enterprise for the new movie, Star Trek XI.
Majel owned and operated Lincoln Enterprises, a mail order business that she and Gene started to deal with the mountain of requests for Star Trek-related materials. Some of her hobbies include golf, gold working, gourmet cooking and gem cutting.
Majel Barrett Roddenberry passed away December 18, 2008, at 12:27 AM in her Bel Air home. She died peacefully, in her sleep, and was surrounded by family and loved ones.
Eugene "Rod" Roddenberry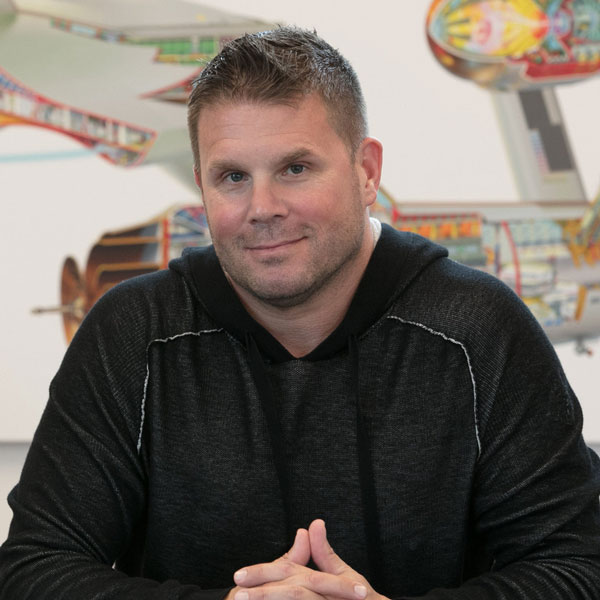 Eugene "Rod" Roddenberry, is the guardian of the Roddenberry legacy and champions its timeless and universal ideals to new generations through creative and inspiring science fiction productions, merchandise, publishing, adventures and philanthropy.
As the son of legendary science fiction producer Gene Roddenberry, whose Star Trek series changed the face of television and continues to inspire today, Roddenberry has followed in his father's footsteps to be a catalyst in the creation of a world where humanity works together for the greater good.
In 2006, Roddenberry became chief executive officer of Roddenberry Entertainment, a science fiction leader with a tradition of groundbreaking entertainment. Roddenberry Entertainment builds on the best of Gene Roddenberry's work and continues to pioneer the development of a multimedia portfolio of smart and provocative science fiction that incorporates graphic novels, comics, television and film projects, including the critically acclaimed Trek Nation, which debuted in 2011.
Trek Nation is the documentation of Roddenberry's 10-year journey to explore his father's life. The undertaking inspired him to fully embrace the vision Gene had for the world and invest himself in its future. One expression of this was the founding of The Roddenberry Foundation in 2010. The Roddenberry Foundation funds paradigm-changing solutions to critical global issues in science and technology, the environment, education and humanitarian advances.
Having originally aimed for the stars, the Roddenberry legacy lives on in Roddenberry Adventures. In the spirit of Star Trek, which sought to explore the human condition, Roddenberry founded Adventures with the goal of promoting exploration through unique, perspective-shifting experiences. He leads the adventure-based team in its exploration of strange, new worlds, revealing the beauty and diversity that surrounds us and unites all species on Earth.
Trevor Roth
C.O.O. / Head of Development
Roddenberry Entertainment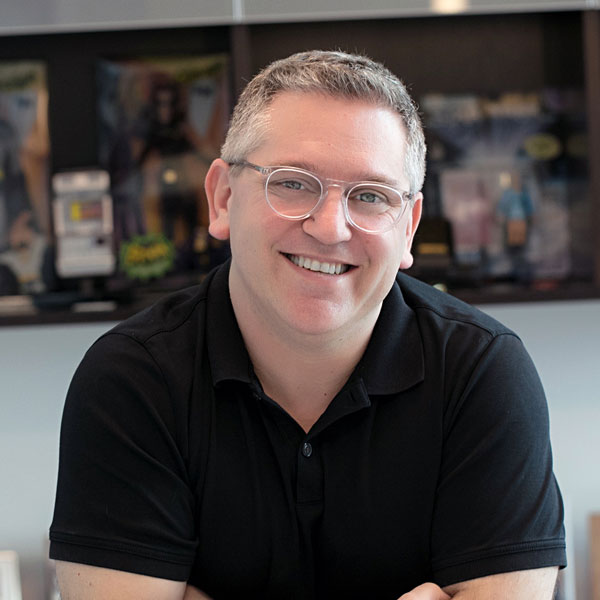 As C.O.O. and Head of Development for Roddenberry Entertainment, Trevor Roth works to develop and produce innovative science-fiction entertainment properties that remain true to traditions of the late Gene Roddenberry, creator of Star Trek.
Roth serves as executive producer on the new CBS All Access series Star Trek: Discovery, as well as its upcoming companion series. Spearheading Roddenberry Entertainment's development process, Roth created the critically-acclaimed graphic novel series Days Missing and WORTH, and the original comic strip Gene's Journal. Additionally, Roth created the company's newest animation project, Rod & Barry, based on the comic strip of the same name. He served as producer on the company's documentary, Trek Nation, as well as executive producer on a first-of-its-kind 360 degree film, White Room: 02B3. Roth will also play the role of executive producer on the variety of projects the company has currently set for television and film development. He is also credited with reshaping the company's successful merchandising arm and building its significant online presence.
Prior to joining Roddenberry Entertainment, Roth spent almost a decade in the world of advertising and marketing. Roth is a magna cum laude graduate of the University of California, Los Angeles, with a Bachelor of Arts in Sociology and a minor in Film. He lives in Los Angeles, California, with his wife and two daughters.
---
Special thanks to David Alexander, author of "Star Trek Creator," from which parts of Gene's biography were taken.